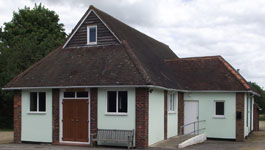 The Kimble Stewart Hall is the local village hall located within Little Kimble.
It provides the user with a main hall with stage area, a committee room, kitchen, and toilet facilities and has off street parking.
The Hall is available for hire seven days a week and is ideal for Charity (Registered), Community, Hobbies and Interests, Leisure and Culture (including Heritage) and Neighbourhood events.
Please contact our Booking Secretary for more information regarding rates and availability of the hall for your group or event.

The Kimble Stewart Hall
Station Road
Little Kimble
Bucks
HP17 0XN

Booking Secretary
Tel: 07527 595813